Free Blood Pressure Testing In Liverpool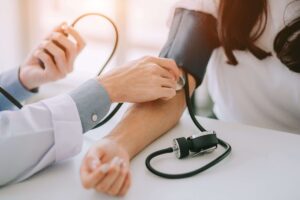 Blood pressure fluctuation is a common problem in people nowadays. With the unhealthy lifestyle that is getting popular, it is becoming difficult for the youth to maintain a healthy body. The food that we eat is not only less-nutritive but also toxic at times.
In the present scenario, blood pressure fluctuation and cardiac problems are very common. This increases the number of people looking for high blood pressure testing facilities.
Keeping in mind the need of the people, we offer free blood pressure testing services for our customers. Regular blood pressure testing helps us keep track of your heart's condition, according to which we shall prescribe you medicines.
Sometimes, you may continue using a particular medicine even when your heart no more requires it. This might be fatal for your body in the long run. To avoid such a situation, we provide you with free blood pressure testing. We conduct blood pressure testing in the pharmacy itself. You need not travel to other places to get it done. If we find a patient with high blood pressure, we immediately refer them to a medical center or get them looked at by our experienced pharmacists. Your health becomes our responsibility once you enter our vicinity.
Local Pharmacy In Liverpool With Blood Pressure Testing Service
It is often seen that certain blood pressure testing pharmacies do not take proper care of their customers. They merely have their patients get a rough idea of their blood pressure levels. Whereas we emphasize on perfection. We use high-quality equipment to check your pressure level and do not compromise in informing you about your heart's exact condition.
We have our pharmacy open till late in the night for you. In case it is an emergency, we also provide you the facility of home delivery and check-up. You may order medicines through online methods from our websites. This is done keeping in mind the convenience of our customers staying at long distances.
Save & Deliver Local Compounding Pharmacy In Liverpool
We are a certified compounding pharmacy in Liverpool with professional chemists at your service. Apart from helping you with your medicines and getting your blood pressure checked, we also offer services like ear piercing with needle and free blood glucose testing services.
Our team distributes medicines for nursing homes, which has helped us learn and explore new aspects of our job. We are very particular about the quality of medications that we provide and our relationship with our customers. Over the years of service, we have successfully generated happy and healthy customers all around Liverpool, Australia.